Author: Bill June 8, 2021, Updated: June 9, 2021
On day three of the first Caribbean cruise back in service, we woke up earlier than we usually do on land.  No, not for an early shore excursion, or to watch the ship entering port – but to catch a glimpse of ourselves on The Today Show!  Being on the first cruise ship back AND the guy on national TV saying he almost cried stepping back on a ship after a year?  Yep.  Despite the excitement though, we had an objective: check out Bridgetown, Barbados!  Though that mission today, required some extra planning.
Tickets Please: Excursions Required in Barbados
It's been made clear to guests that the government of Barbados would only allow guests to disembark if part of an organized excursion from the cruise line.  The reason for this is it allows them to isolate guests in pockets, sticking with tours that will follow local protocols in terms of mask-wearing, distancing, etc.  With all of yesterday's excitement however, we neglected to book any tours until they were sold out – but we had a plan.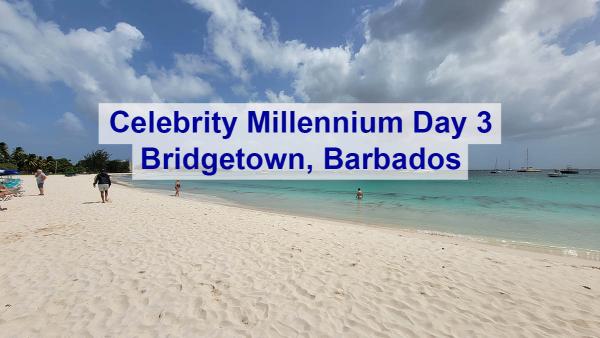 Since Celebrity knew this well in advance, and Bajan businesses (those in Barbados) are keen for business, we were confident that options would open up.  Just ahead of heading out to breakfast, the cruise director's morning announcement explained that tours were available at the excursions desk on deck three.  Upon arrival, we found that there was still space for a 1:00pm trip to a beach.  It sounded simply, but the price and time was right.  We paid $30 each to arrange for transportation to and from a pretty beach, loungers with an umbrella, and a welcome drink. 
Breakfast with a View?
Breakfast was again at Oceanview Café, Celebrity's buffet venue.  We'd like to try the main dining room breakfast, but on only a couple hours of sleep we went to what was more familiar.  There we answered a wealth of questions and comments online (thanks for that – keep them coming!!) and enjoyed a meal.  The floor-to-ceiling windows of Oceanview however gazed mostly upon the industrial port of Bridgetown.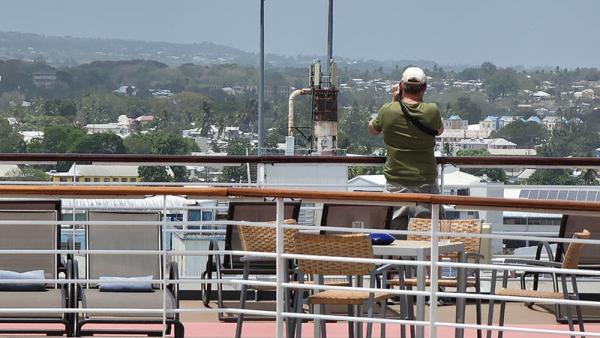 While eating a made-to-order omelet, veggies, a fresh almond croissant, and a vat of espresso, we gazed upon the cranes at the port and I tried to remember what the city looked like, as it's been years since I last visited.  I knew the destination ahead would be prettier than the port – and you should always remember this when cruising.  Often, the port your visiting isn't even the city you're looking to tour. 
Harbour Lights at Carlisle Bay
Departing at 1pm, our excursion to the beach was still a big question-mark, as we didn't really know what things would be like given local COVID protocols.  The tour met at the theater, guests were given stickers with their bus number (like on any line), and told we'd need to wear masks as soon as we step off the ship.  I broke out one of the Celebrity masks we were given then we walked down to deck one to get off the ship: the first time stepping foot in a port of call in the Caribbean, since early 2021.
We boarded a comfortable bus which was seemed to have been intentionally selected to allow all excursion guests to maintain social distancing.  A local rep came on and explained the regulations in terms of distancing , masks, etc.  The ride to the beach was short, and in just ten minutes, after seeing less of the city than we'd have preferred, we arrived at Harbour Lights, our beach spot for the next several hours. 
The property appears to be a beach bar, restaurant, and night club.  The 20-30 Celebrity guest booked for this slot were among the only people on this stretch of the beach, and many parts of the property were closed.  It seemed clear that while they were happy to have us, and it was a lovely spot, it's usually much more lively.  The light crowds didn't stop our enjoyment though, as we napped on loungers on the beach and drank our complimentary rum punch and beer (one per guest).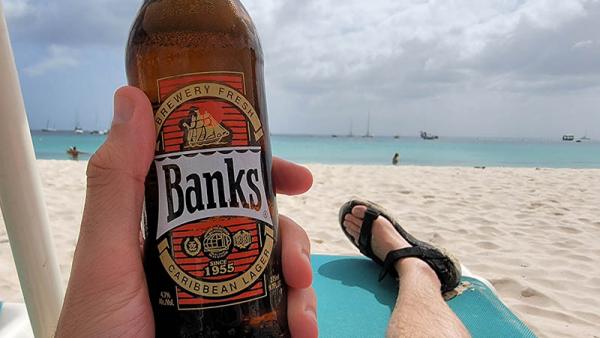 The comfortable loungers sat well-aligned on Carlisle Bay's beach.  Aside from some locals enjoying a day off, we were left un-bothered.  There was someone there to take drink orders if necessary.  Between visiting dream land I did do a quick Facebook Live broadcast, and put my feet in the powder-smooth sand of Barbados.
Eventually we stopped to have a homemade veggie burger with local hot sauce.  Drink prices at this property were fine – but the veggie burger was $14!  This lead me to double-check to see if this was in USD or not (it was, clearly marked.  Know what?  That was a fine veggie burger, and I'd pay $14 again.  The biggest disappointment was actually that I asked if they sold the hot sauce they had available, and the cook explained it was a popular local concoction that was available just about anywhere – though by anywhere, she meant in 2019.  Because we're part of the restricted excursion, I wasn't able to leave the property to get souvenirs (such as hot sauce).  Do I think anyone would have stopped me?  Probably not.  Still, my desire to contribute to the local economy while respecting the local laws meant I'd just need to come back for hot sauce at and beaches some time.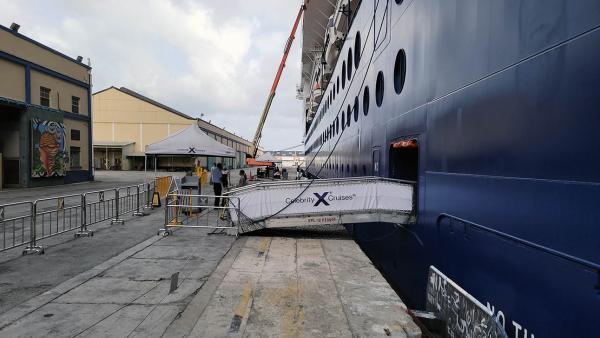 Solarium Time
Back on the ship, we headed to the solarium…with a brief detour for ice cream.  The Oceanview Café has a section near one end that is open during most of the day and night that has a selection of baked goods as well as a nice variety of ice cream.  I had to test this out of course.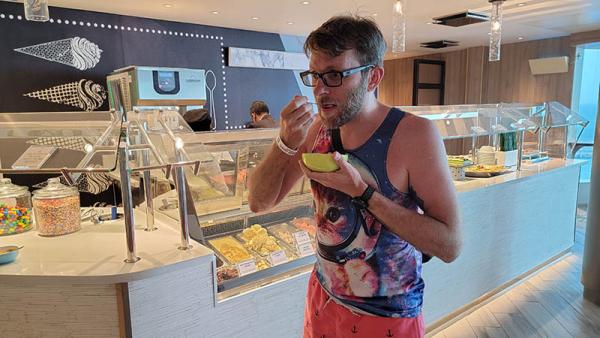 We arrived to the Solarium (with now-empty ice cream bowls) and found a handful of guests enjoying the space.  Every Celebrity ship has one of these enclosed pool areas, and while the layouts, specific features, etc. vary, they're all very peaceful areas where the temperature and humidity are such that you feel like you're outside-ish, but always comfortable.  Soothing music combines with my favorite quality of the Millennium-Class solariums: the water spouts in the thalassotherapy pool.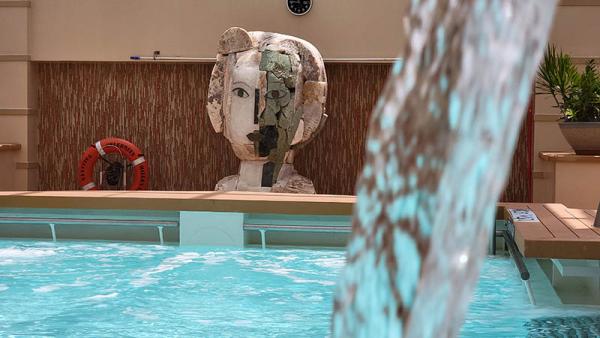 I took a brief dip, put my head under the stream of filtered salt-water, and then showered-off, only to find that Larissa had become very comfortable in a day bed and was enjoying a nap.
Three-Person Sail-Away Party
At around 5pm the Captain announced we were dropping lines and about to sail away.  On a "normal" cruise this might mean a bunch of guests on deck enjoying the view and perhaps some live music.  With so few people onboard however, and many presumably showering after a day on land, there were very few out by the pool as we pulled away and headed back to sea.
As we crept away from the port I realized I could do one of my favorite things that I'd not done in almost 480 days!  I fired up a quick Facebook Live session and broadcasted views of our sail-away.  Please be sure you give CrusieHabit a like so you can catch us next time.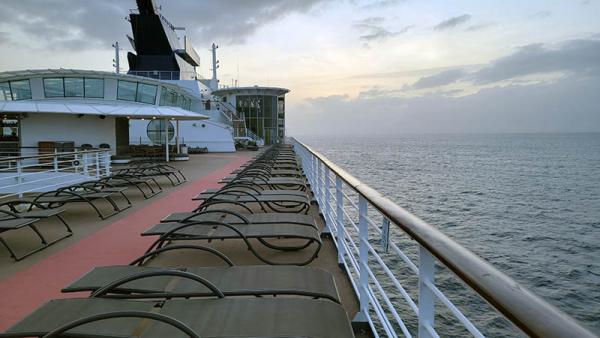 Despite the slim attendance on deck (more may have been there on Facebook than in person), the band Magnifica was on stage and playing like they were in Madison Square Garden.  This talented group of folks deserve more of an audience, but I think they were happy to be back onboard with guests either way.  Hopefully we can catch them again soon, as they, along with Manilla Soul on Norwegian Sky, stand out as two really great ship house bands.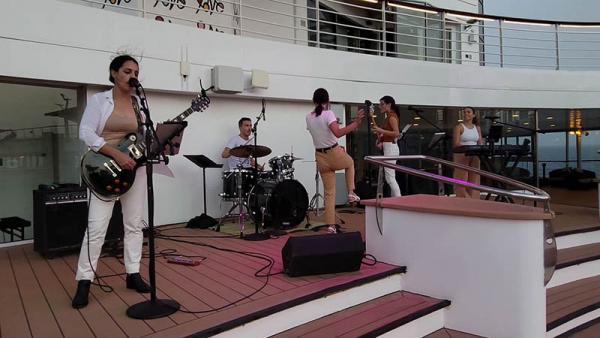 People Really Like Family Feud
Celebrity has worked so hard to provide a wide variety of onboard events, but the passenger load means they're often just empty.  This wasn't the case for one event though.  After showering I stopped by the Rendezvous Lounge, which is large multi-purpose space that looks, in my opinion, 100x better since Celebrity Revolution.
In Rendezvous the cruise staff was hosting a game of Family Feud, and between those participating, and those just watching, I'd bet there were over 40 guests in attendance – a big crowd for this sailing!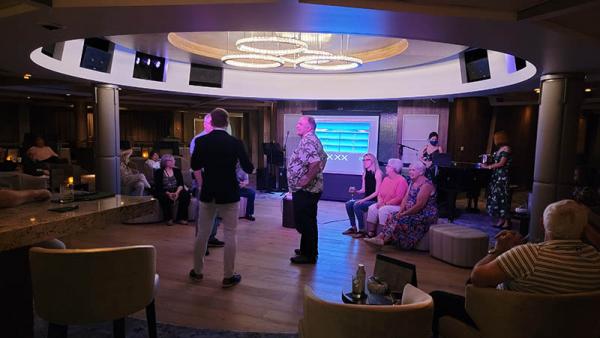 The event was fun for me, too.  Not because I was interested in the game, but because I noticed the bar had one of my favorite scotches, Ardbeg!  Overall, this ship has had some great single-malts, for those interested.  Alost all of them are covered by the premium beverage package, which is included with Indulge and Elevate fares, or for those with the base Always Included fare, available for just $11/person/day.
If you're confused by this talk of fare types, Celebrity actually made it really easy, and generally, your drinks, WiFi, and tips are included with your cruise.  We explain it all here: Celebrity Goes All In - Drinks, WiFi & Gratuities Always Included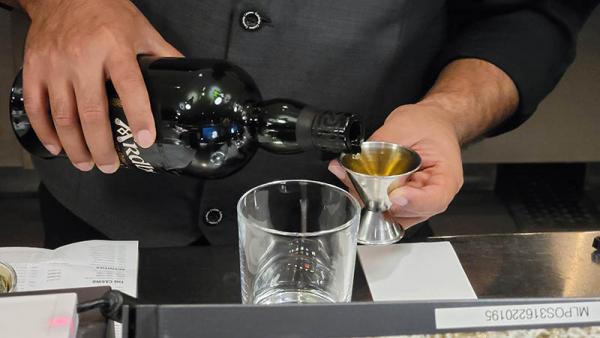 Main Dining Room Experience
For the first time this sailing, we headed to the Metropolitan Dining Room, which is located on decks four and five.  We always opt for anytime dining, which previously, Celebrity called Select Dining, but now they have Select Early, Select Late, and Select Anytime.  The reasons for this really have to do with the multiple dining rooms on Edge-Class ships, so why do I mention this branding change?  Because the branding update didn't seem to get to 100% - with some printed items still telling Celebrity Select guests to go to a certain spot – but that's everyone now, right?  No big deal, but hopefully they can update this before there are more guests onboard.
For dinner I enjoyed a tomato and chickpea soup, salad, fried potato masala – all of which were excellent.  Of course I don't ever skip dessert, and that was a small chocolate lava cake, with a candied banana, and some ice cream.  Delicious.  We don't go main dining rooms as often as we used to, but the last several experiences on Celebrity have been great, and we should do this more.  Service was also good, and the sommelier noted, as we chatted, that this was his very first contract.  What a wild time to start a career onboard cruise ships!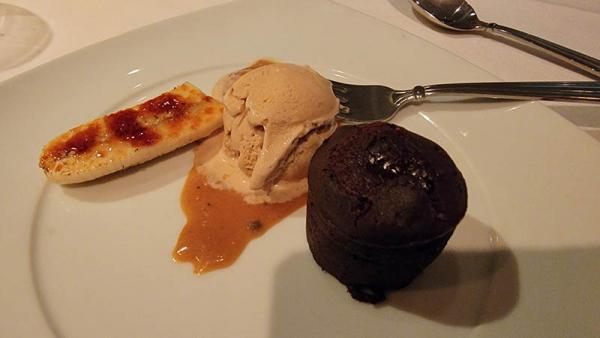 Eventually we realized we'd closed out the restaurant, and I headed to Rendezvous for one last glass of whisky to wrap up the evening. 
Tomorrow: Sea Days are Good Days
Tuesday is a sea day, and I looooove sea days.  It's not that I don't enjoy going ashore, but there are so many things to do onboard, or just a lot of great places to take naps!  For those who caught my earlier video, you'll note that I said we were in Aruba tomorrow, but that was future Billy talking, apparently.  We'll actually be in Aruba on Wednesday. 
What's on the agenda?  Maybe the gym, but I definitely want to see more live music.  There are more musical acts than usual, and we've enjoyed what we've heard so far.  I'll figure it out in the morning, as I'm literally falling asleep as I type this.  It was a long hard day, but someone has to do it.  Is it wrong that I'm already looking forward to espresso at Café al Bacio?
Please make be sure to follow us on Facebook, Twitter, and Instagram, and subscribe to our YouTube channel!  We're doing live broadcasts from the ship and ports of call, answering your questions, and having a great time sharing - so come say hi!  Also, we're sailing Celebrity Edge on July 3rd, so if you want to sail a great ship out of Ft Lauderdale, come join us!