Author: Bill June 9, 2021, Updated: June 9, 2021
The excitement of the first Caribbean cruise back, combined with the tropical sunlight coming in from around the blackout curtains were powerful forces, yet no match for the comfortable mattress in our stateroom.  Late starts aren't always bad starts, but still there was a lot on the schedule to check out today.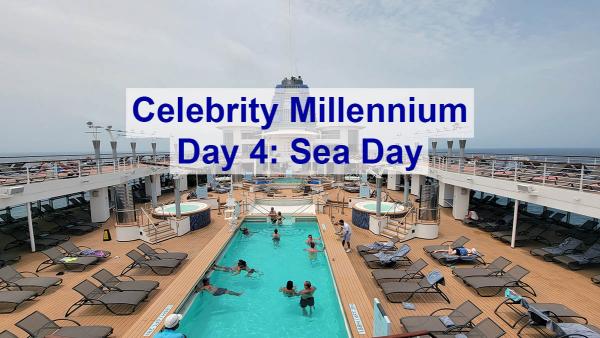 Eventually rising, with the assistance of coffee, juice, and pastries being delivered to the room, I realized I'd not posted the previous day's blog.  I sat out on the verandah with coffee and remembered how lucky I am to be here.
Some Sweet and Some Sweat
While I was wrapping up my post, Larissa went to the gym to get in a workout.  She noticed that the gym on Celebrity Millennium has several Peloton cycles.  I'll confess I've never used one, but maybe I'll see what the hype is about at some point on this cruise.  This also means that existing Peloton owners can continue their home routine while at sea. 
Meanwhile, after my writing, I headed to Café al Bacio for espresso and some sweets.  I just can't seem to pass that place without enjoying something.  I should really go to the gym tomorrow. 
Making the café all the more enjoyable though was a near-continuous set of live performances, the first of which (for me) was by Michael Redden.  In addition to being talented, he's often got interesting back-stories to songs and performers.  This should prove all the more fun during his Beatles set later in the cruise.
At some point I also watched Drake and Tara perform at the café, and then later at the Sunset Bar  I mention it here because the day was so full of entertainment that I lost track of when.  They too sound really beautiful, and I wonder if several of the entertainers might end up with an impromptu set together – something we've seen happen on other cruises.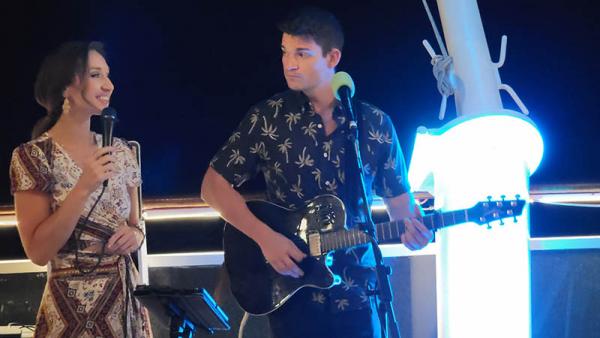 Keeping Track of it All with the Celebrity App
The Celebrity phone app is a fantastic tool that I don't think I've talked about in the past.  In addition to making dining reservations, opening your stateroom door, exploring and booking excursions, etc, you can very easily check the schedule for the whole cruise and tap or swipe to get a reminder when something you're interested in is coming up.  With so many options, we love using the app.  Oh, and you don't need internet access to use the app – of course most guests have access anyway as part of Always Included rates.
The Pool Deck is Hoppin' (relatively speaking)
Up on deck, the sun shined all day – though often through a thin layer of clouds, diffusing the light.  It made things look a little less vibrant, but I'll look at this as adding a small enhancement to the efficacy of my sunscreen.  Plenty of guests were enjoying the sun, the breeze, music, and the cruise staff leading guests in some fun dances.
While everyone I've chatted with onboard has enjoyed the reduced capacity, it was nice to see things a bit more lively by the pool.  Of course, there were still no shortage of chairs (and frankly, that's not a big challenge on Celebrity, compared to some other lines).  If you've only sailed contemporary lines (such as NCL, Royal Caribbean, or Carnival), you might not only be used to the struggle to get a lounger, and then the hassle of checking out pool towels.  On Celebrity, large, soft towels are available all around, and usually you won't even need to pick one up, as the staff puts fresh towels down on chairs as soon as they're vacated.  It's a little thing, but it's convenient, and feels like a more premium experience.
As I enjoyed the outdoors, I went live on Facebook and got to say hi to many of you and answer some questions.  I then showed everyone around other parts of the ship, including the solarium (which we really enjoyed yesterday), Oceanview Café, the Sunset Bar, and more.  This resulted in me realizing that with all the excitement, I'd not eaten lunch, and I was hungry!
Spa Café
Located in the solarium, the Spa Café offers light fare and fresh-made juices.  It may be easier for some to dismiss this venue as having "just healthy stuff", but as someone that's eaten half his body weight in cake this week, trust me when I tell you that the draw of the Spa Café is that it's delicious.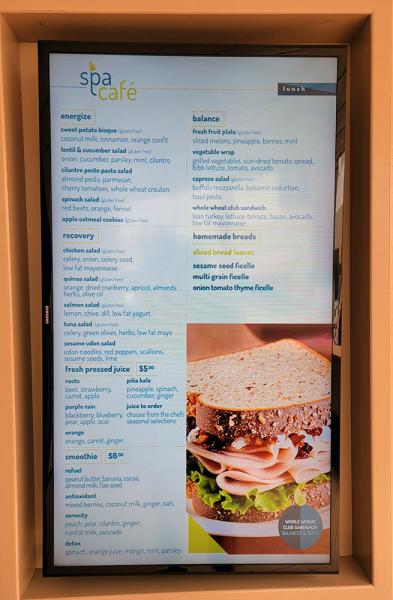 I had farfalle pasta with a light pesto sauce, and a salmon cake or sorts.  I should probably find out the name of that salmon dish, as I think I get it on just about every Celebrity cruise at some point.  Give this spot a shot – it's good food, good for you, and you can enjoy it while relaxing in the solarium.  
Safety Practices and Signage
So much of these cruise feels so "normal" after such a wild year, that I may have neglected to adequately share some of the things that do make it different.  Yesterday I talked about the mask and distancing requirements in the Barbados, but there are many changes onboard – they simply don't negatively impact the guest experience in any significant way.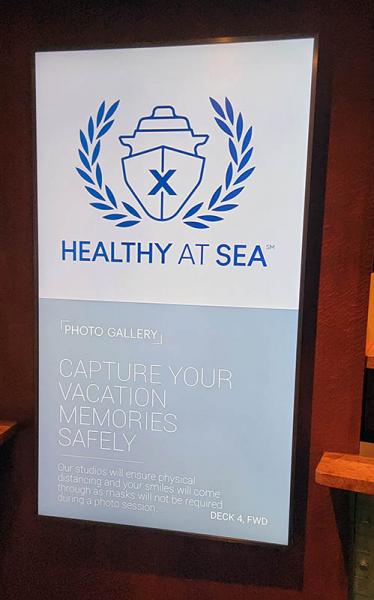 One thing that guests will notice is a lot of signage explaining how the line is working to keep people safe.  Modified ventilation systems that use hospital-grade filtration while continuously brining in fresh air throughout the ship, enhances cleaning protocols, and even changes to how guests and crew interact.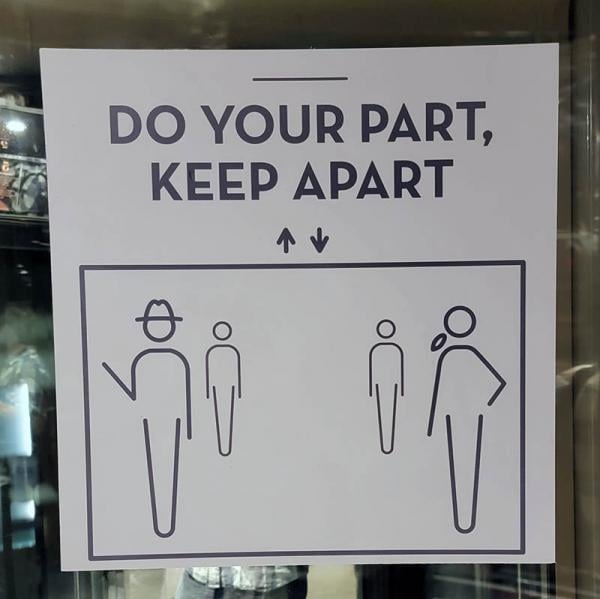 To Dance or Not to Dance, that is the Question
Passing through Rendezvous Lounge, I noticed the Lucky Band was playing to a decent size audience.  With a couple dozen chairs filled, there was just one couple on the dance floor.  This is a stark contrast to some Holland America Line sailings, which attract guests who can keep up with the moves of the entertainment staff.  I'm not a dancer, but I really enjoy watching people dance, so hopefully the band's high-energy encourages others to come.
I'm curious if others enjoy watching guests dance as well, or if maybe I'm just a weirdo.  I know, I know – those things aren't mutually exclusive.
Acrobatics and Interviews in the Theater
Celebrity's shows often involve aerialists and acrobatics, and tonight's show was all about the talented pair onboard: Touch of Shine Duo.  These Ukranian performers have been in the Olympics, Cirque du Soleil, and more.  The show this evening involved impressive moves both on and above the stage.  They also showed some of their career and life highlights on the screen between sets, which I thought gave the audience the opportunity to get to know a bit more about them.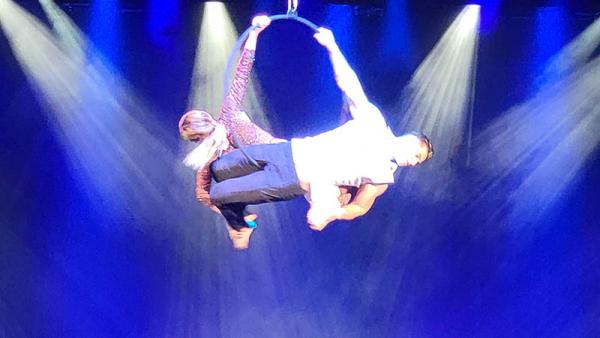 Later in the same theater, the cruise director sat down one on one to chat with various people who work onboard Celebrity Millennium.  This ranged from the captain, to one of the wait staff (who sang for the audience as well), and actor/comedian Ralph Harris.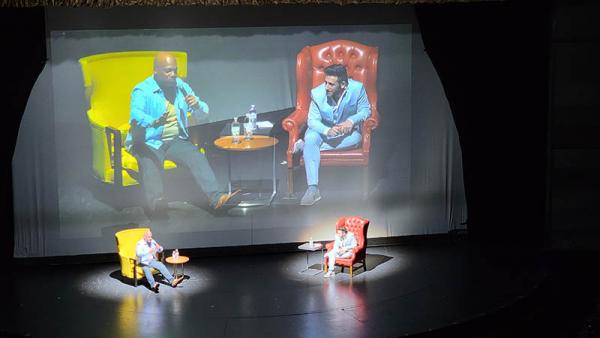 I Didn't Cry at Karaoke
One of the great parts of cruising is making new friends, and we've been fortunate to meet a few folks on this sailing that we hope to keep in touch with.  While I won't start naming everyone (ya know, in case there is a falling on out the last sea day), there is one couple I have to call out: Tommy and Rick.
Why does these folks get special mention tonight?  Not only for being a lot of fun to cruise with, but Tommy (an amazing singer) gave us the heads up that he was planning on proposing at Live Band Karaoke tonight.  At the end of a great performance of John Legend's All of Me, Tommy proposed to his [now] fiancé, Rick.  It was a great moment, and I'm glad we got to be there for it.  Congrats guys, and thanks for being awesome.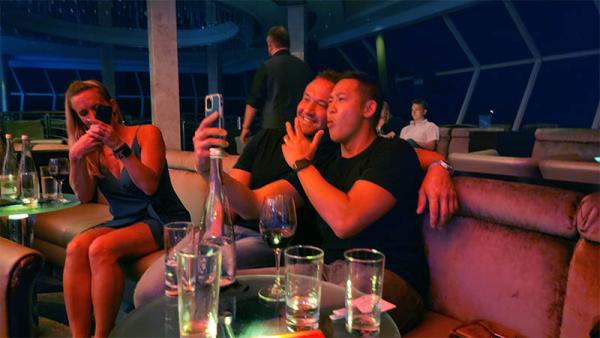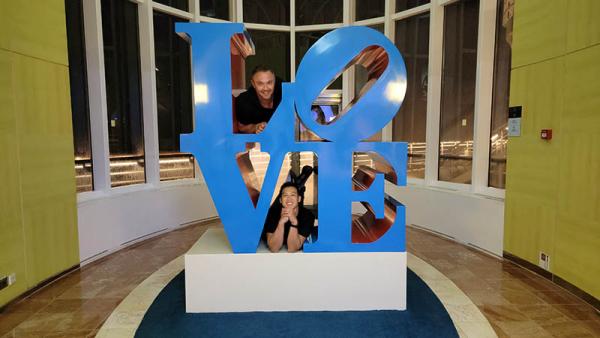 Overall, to be honest, this was the greatest evening of karaoke I've ever seen on a ship.  So many talented folks and funny moments.  Usually Larissa has to drag me to these things, but honestly, tonight, I laughed, I cried, and I sang along to songs that left people asking, "why do you know all of the lyrics to all the bubblegum-rock tunes?"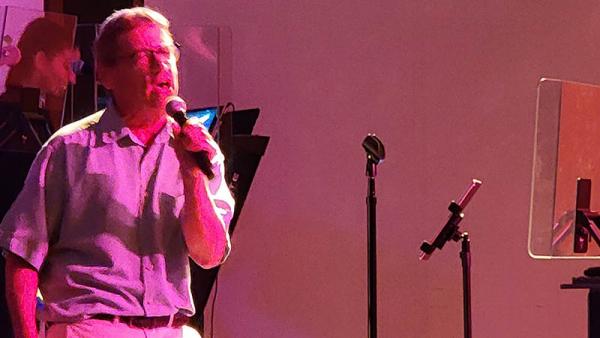 Tomorrow: One Happy Little Island
Our next stop is Oranjestad, Aruba.  I've heard they have quite the grand arrival, with fire boats and such.  As with Barbados, earlier in the cruise, we'll be the first cruise ship to come back to this island nation in over a year.  What will we do?  That's probably something we should start planning.  Time to thumb through the daily program, which was delivered with two complimentary Celebrity hats!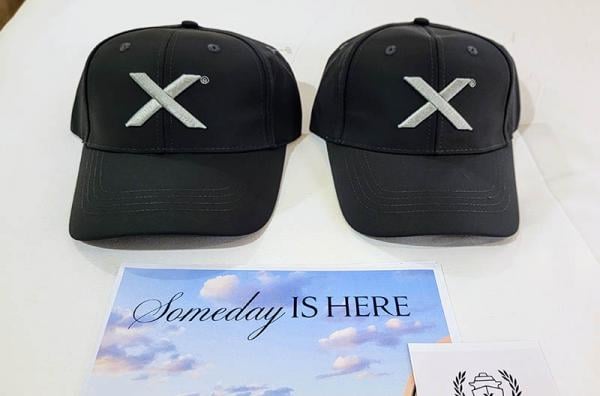 Please make be sure to follow us on Facebook, Twitter, and Instagram, and subscribe to our YouTube channel!  We're doing live broadcasts from the ship and ports of call, answering your questions, and having a great time sharing - so come say hi!  Also, we're sailing Celebrity Edge on July 3rd, so if you want to sail a great ship out of Ft Lauderdale, come join us!