Author: Bill June 7, 2021, Updated: June 8, 2021
If you travel a lot, you might have woken up in a bed and taken a moment to remember where you are.  When we woke up this morning just before 9:00am to the first sea day of the cruise, and the year, I knew exactly where we were – but I still couldn't believe we were onboard.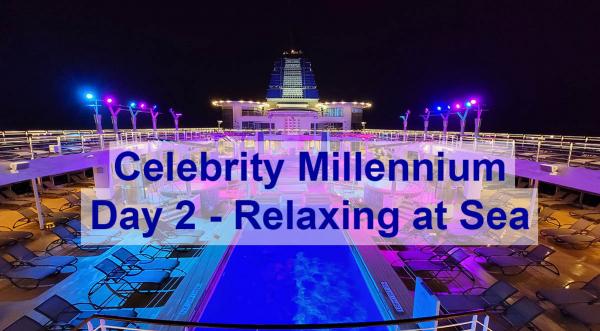 The gentle rocking of the ship combined with the comfy bed (seriously, Celebrity has great bedding) made me want to stay laying down longer, but at home, there isn't a ship full of opportunities.  The first opportunity? Breakfast.  Well, it should have been, but I opted to get dressed first.  We headed to Oceanview Café, which, thanks to the bright palette and extraordinary circumstances, had an upbeat feel despite the foggy and slightly damp weather outside.
Exploring Celebrity Millennium
Full and caffeinated, I grabbed my Celebrity-provided sanitizer and started roaming the ship top to bottom.  It's interesting to come back to cruising after a break, onto a ship that's had so much work done to update and refresh every element.  Celebrity said the goal of Celebrity Revolution was to "bring the fleet to the Edge" and that isn't an understatement.  Does it make the fleet feel homogenous?  Not at all; Equinox, Edge, and Millennium all have unique spaces and are distinct from each other, but the color scheme and even textures now make the fleet feel more consistent than when we first sailed on Celebrity Edge – and for me, that's a good thing.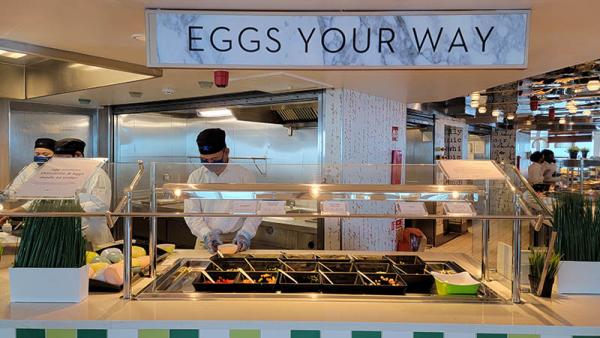 One thing we noticed was different as we walked around though.  Crew members always offer friendly greetings, especially if you interacted with them earlier in the cruise – but because the crew is still donning masks, it's very hard to tell who you've met before.  That's a bit sad, but a small price to pay.  Even without seeing the bottom half of their faces though, you can still see in they're eyes that they're as happy to be back as we are.
Activities Galore
I should probably check past daily programs from similar cruises, but looking at today's schedule in the Celebrity app (also available printed and delivered to your room each day) it feels there are more options for entertainment and activities on the schedule than normal.  This is a good thing – options are always nice.  The only downside is that I saw last night and tonight that with the limited capacity and wide variety of options, the crowds are spread thin.  If you don't mind attending a lecture with three other guests, or playing trivia with one other team, then you're in luck.  At some point, certain events, including musical entertainment, were moved indoors because of some light rain.  This may (or may not) also explain some spotty connectivity, which is why we didn't get to share as much with you live – but stay tuned as we'll be back!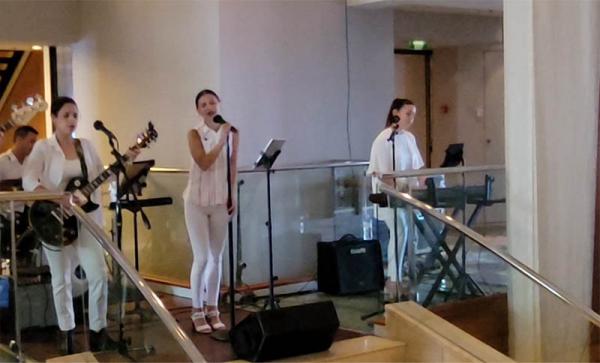 During this time we went to an overview of available excursions for the cruise, and then Larissa chose her activity, "reading" – which is her code for falling asleep on a daybed out on the pool deck.  I do enjoy a cruise nap, but I think I was too excited to do that today, thanks in no small part to the potent espresso from Café al Bacio.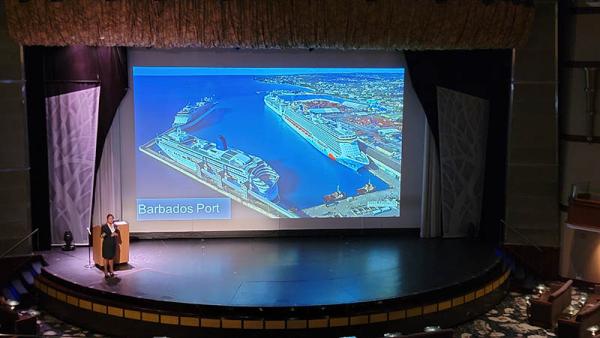 Late Lunch at Sushi on 5
Celebrity ships have a specialty restaurant called Sushi on 5, except Edge Class ships, which have Raw on 5.  You can probably guess the cuisine and the deck.  This is an up-charge venue, with a la carte pricing.  The prices are on the lower side of what we'd expect to pay for Sushi at a neighborhood Japanese restaurant.  We enjoyed some truffled albacore, vegetarian sushi (which is fantastic in flavor and texture), and a few other treats.  One really nice thing is despite Larissa having a shellfish allergy, they do a great job of taking care of us here.  The experience and food is always worth the extra couple dollars it costs, and today was no exception.  If you try it out, see if they have real wasabi available – it's a real treat compared to the horseradish paste that is common at sushi restaurants on land and sea.
After Lunch Excitement
While I'd not usually want to spend time sitting in front of my laptop in the middle of a cruise, I was delighted to chat with some friendly folks at NBC this afternoon, and by the time you read this, a little part of our voyage will be shared with the world on the Today Show.  It was really exciting to get to chat with their team, provide some footage, and talk ship with them!
Tomorrow: Bridgetown, Barbados
Our first port of call is Bridgetown, Barbados.  We'll be arriving early in the morning, and as I write this, I am realizing we should pick an excursion.  The government of the Barbados has decided that guests can only disembark if they're part of a ship-sponsored excursion so that the cruise line and health authorities can ensure the nation's safety protocols are being followed.  In fact, Celebrity also provided masks for guests, as well as the previously mentioned sanitizer.  Ahh, how cruise line swag has changed in 2021.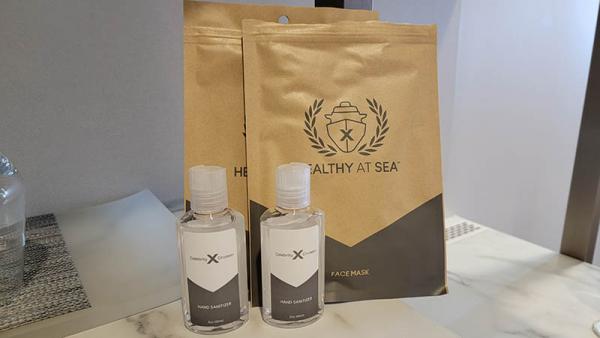 The excursion requirement is certainly understandable, but a bit tricky since we frequently make last minute decisions or roam around a town.  When we take excursions, we're often on the fence about whether or not to choose an excursion through the cruise line vs touring interpedently.  There are definitely pros and cons to each.
Celebrity's Theater Shows Make Me Happy: Uptown
I'm wildly lucky, I cruise a lot.  I've seen umpteen cruise shows, and there was a time that I was jaded, and just done with them.  Cruise lines used to all use Jean Ann Ryan for casting, did Broadway mashups, and nothing felt unique (despite this by the way, we LOVE Broadway mashups).  Since Celebrity (and others, in fairness) started coming up with unique shows, we've been really entertained.  Last night we missed Elysium, but we've caught it on other cruises.  Tonight was Uptown.  This was a show featuring the talented house band for the live music, and a trio of singers that were not only musically talented, but truly funny and enjoyable showmen.  They sang and danced while performing a variety of pop songs from different ages, with a modern sound that had vocal styling reminiscent of uptown and doo-wap.  I do hope we get to see them again.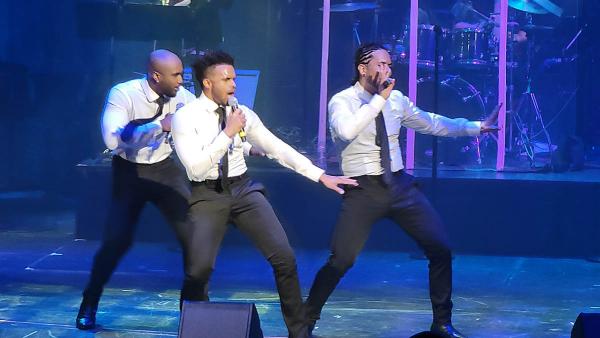 There was a part of the show where it seemed clear they'd have brought an audience-member on stage to take part in the show as one of the dashing performers serenaded them, but due to COVID protocols and such, the guest stayed in her seat as they sang to her and they lit an empty stool where she would have been.  This was one of the few reminders in any of the performances we've seen so far, that things are still not "normal".  Of course that, and crew donning masks, are small prices to pay for the return of cruising.
At the end of the show, the cruise director made several jokes around how few people were at the show, and how few children are onboard.  If you consider there are 580 guests onboard, and there are two shows, I was actually impressed to see well over 100 guests in the first show.  As far as kids…we've seen two on the entire cruise.
At the end of the show, the crew immediately began wiping down the entire theater.  They started cleaning a 931 seat theater and running special sanitizing equipment throughout both tiers of the venue…after a popular, yet sparsely attended show.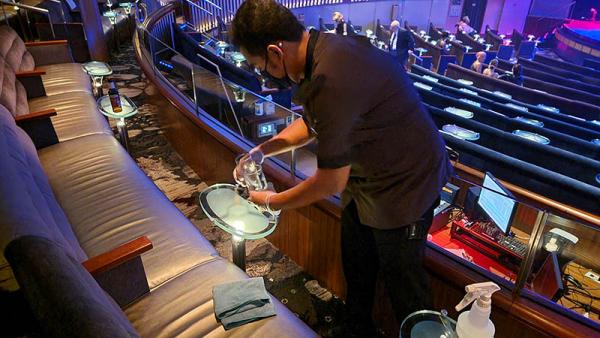 Le Petit Chef & Family
Celebrity Cruises has a rather unique dinner option called Le Petit Chef & Family (or Le Petit Chef & Friends, depending on the version you catch).  This is a specialty dining event where your plain white table becomes a canvas for a high-definition, high-dynamic-range projector concealed above your table.  An animated scene plays out in front of you involving several chefs who are having a cooking competition.  In cartoonish and cute ways, they each prepare their specialty dishes so that every chef offers up a different course.  Once the dishes are plated, the wait staff brings your food, and unless you've modified your order from the prix fixe menu, they place your actual food right over the illustrated version on the plate.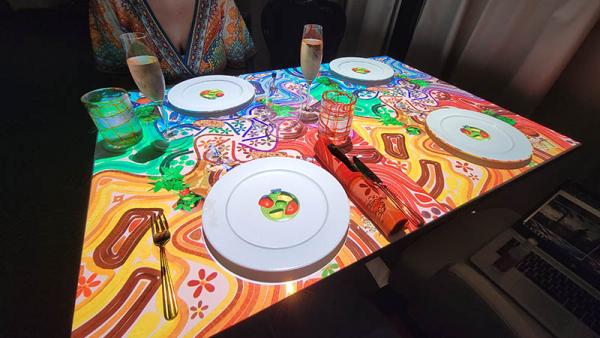 While we've enjoyed this several times on different cruises, I'll confess that in the past the show was far better than the cuisine – which wasn't bad, but a bit salty.  On this occasion we actually found the meal to be quite good.  A tomato tarte, mushroom ravioli in cream sauce, sea bass, and then a mochi cake.  This is a different selection of dishes, since the menu includes shellfish and/or beef, which we don't eat.  In other words, don't let the menu keep you from trying this really unique experience.
An Early Night
After dinner I ran an errand and then found the midship atrium to be completely quiet, which isn't really surprising since we arrive in Bridgetown early in the morning.  Still, I can't be expected to miss out on all entertainment and then write without a drink, so I went upstairs and found the Silent Disco going on in the Sky Lounge.  If you're not familiar, in a silent disco, guests are given headsets that can tune into different channels, and each channel has a different song.  This means you have several groups of guests dancing and singing…to different songs.  It's hilarious to watch, and as someone that enjoys a peaceful evening that's still lively, it's quite quiet.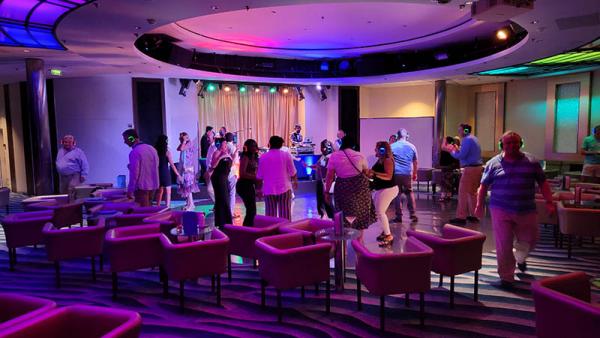 Tomorrow is Full of Surprises
If you found our activity today a bit sparse, it's because we working on something special that we hope pans out before you even read this.  Tune into the Today Show on Monday the (June 7) and we'll see if there are any familiar faces.
Adding to tomorrow's mystery though, is that in the course of writing this, I went from "I should book an excursion" to "I forgot to book an excursion and it's too late now!"  We'll see how this pans out, and hope everyone enjoys tomorrow's episode of "where in the Barbados are Billy and Larissa".  No matter what happens, we're sure it will be an enjoyable day.
Please make be sure to follow us on Facebook, Twitter, and Instagram, and subscribe to our YouTube channel!  We're doing live broadcasts from the ship and ports of call, answering your questions, and having a great time sharing - so come say hi!  Also, we're sailing Celebrity Edge on July 3rd, so if you want to sail a great ship out of Ft Lauderdale, come join us!